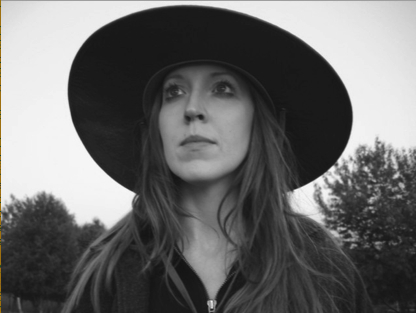 I was born in a hospital in Detroit, Michigan.

I took degrees in Chemistry and Biochemistry, with a minor in English, from Penn State University at University Park. While there and immersed in (read: obsessed with) a 3-year research project in a bioinorganic and physical chemistry lab, I designed, synthesized, and completed laser studies on a potential MRI contrast agent. I began a Ph.D. in Pharmacology at Yale Medical School and dropped out when poetry took over my dreams and insisted on being recognized as the next big project in my life.

Falling in love with poetry was an accident.

I remember reading Elizabeth Bishop's poem, "At the Fishhouses," by the light of a laser in an otherwise pitch-black room while collecting data for my research project as an undergraduate at Penn State. That's when all the trouble began. "Cold dark deep and absolutely clear, / element bearable to no mortal," ... "Cold dark deep and absolutely clear, / the clear gray icy water ... Back, behind us," ... "It is like what we imagine knowledge to be: / dark, salt, clear, moving, utterly free, / drawn from the cold hard mouth / of the world, derived from the rocky breasts / forever, flowing and drawn, and since / our knowledge is historical, flowing, and flown." I knew science, in a way, was behind me, then—and I knew poetry was the difficult path ahead. It wasn't a choice. I felt science had prepared me for poetry; I understood that poetry was science's purpose, for me.

I've lived in many places (including a cabin in Vermont for three years), worked many jobs, and I've earned my MFA in Poetry from Syracuse University's Creative Writing Program (2005). My first full-length book of poems, Love-Noise, was published in November, 2010, by Standing Stone Books (Syracuse and Brussels), and my chapbook, Zoo Animals in the Rain (Turtle Ink Press: Philadelphia, 2009), includes several poems that have been nominated for Pushcart Prizes. Among other awards, I won The Joyce Carol Oates Award for Poetry when I graduated with my MFA from Syracuse University. My poems appear in Barrow Street, POOL, the Australian journal Skive, and in many other places (see my "Publications" page). I teach poetry at the Downtown Writer's Center through the Syracuse YMCA, and from 2006-2009 I taught literature and composition at Le Moyne College. I serve as an editor for the poetry journal Comstock Review.

I live in Syracuse, New York with my husband, the composer Edward Ruchalski, who has set a number of my poems to music for choir and for piano.